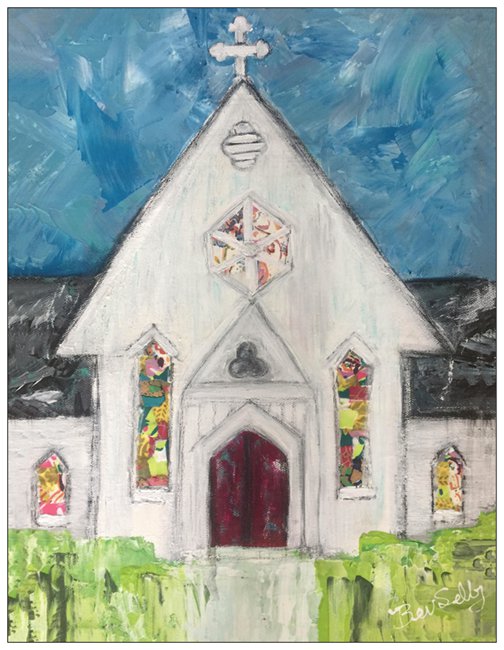 St. Mary's Church, Raleigh, NC
St. Mary's Chapel, Raleigh, NC
St. Pauls, Episcopal Church Beaufort, NC
My Heart trusts in Him.
The Lord is my strength and my shield; my heart trusts in him, and he helps me. My heart leaps for joy, and with my song I praise him. Psalm 28:7
St. Paul's Episcopal Church, Beaufort, NC
St. Paul's Episcopal Church - circa 1857
Part of the history recorded on St. Paul's website:

In 1724, one year after Beaufort's official incorporation as a town, Carteret County was designated as St. John's Parish. The first vestrymen of St. John's Parish were Christopher Gale, Joseph Bell, John Shaw, John Nelson, Richard Whitehurst, Richard Williamson, Richard Russell, John Shackleford, Thomas Merriday, Enoch Ward, Joseph Fulford and Charles Cogdail.
In 1724 a 1/2 acre lot with a building upon it, was deeded for use as a courthouse and church until such time as a proper church building could be built. The courthouse was used for Anglican worship services for a number of years.

In 1774, Mr. David Lewis of Beaufort died and left the sum of £100 for the construction of a new church building. It was described as "small, old fashioned, with immense stone pillars." In 1776, as construction drew to a close, the Revolutionary War would cause the Church of England to disappear from Beaufort. Anglicans stopped using the new building, which was shortly thereafter used by Methodists. Although records exist for St. John's Parish after the time of the war, they generally have to do with the parish as an organization for social welfare, but not as an organized community in Anglican worship. A substantial period of relative inactivity followed. Anglicanism effectively disappeared from Carteret County until shortly before the Civil War.
St. Mary's Chapel, Raleigh, NC
St. Paul's Episcopal Church, Beaufort, NC